About iFly Agility Dog Training
Meet the Owner, Founder, and Dog Training Instructor
Tiffany has spent over 20 years dedicated to training and competing in dog agility. Growing up on a farm, Tiffany was introduced to training animals from an early age, starting with horses, then moving onto dogs. Before she even knew about dog agility at the age of 7 years old, Tiffany would often set up courses with horse jumps for her family dog and friend's dogs. At the age of 10 years old, when agility began gaining popularity, Tiffany began taking agility classes at The Wilmington Kennel Club with her Scottish Collie, Shiloh, and it was love at first sight.
Soon after taking classes, Tiffany began competing in AKC Agility Competitions. Since beginning her agility competition career Tiffany and her dogs have earned over 25 titles in competition and are continuing to work on more. Since beginning her agility career, she has trained three Scottish Collies, and in 2009, turned to the dark side of Border Collies. Training Scottish Collies gave Tiffany a perfect foundation for training dogs, teaching her the skills and patience necessary to work with soft, sensitive dogs. Her Border Collies have taught her the true art of handling, planning, and quick thinking. Currently she owns four border collies, Neo (now retired), Tek (currently competing), and two new puppies, Ash & Eevee. From 2013-2020 Tiffany was an Agility Instructor at The Wilmington Kennel club, teaching the first three levels of Agility Classes. Tiffany has worked with a wide assortment of dog breeds, personality types, as well as people of all ages, physical abilities, and learning abilities. Tiffany has a passion for training animals and helping others learn to do that same.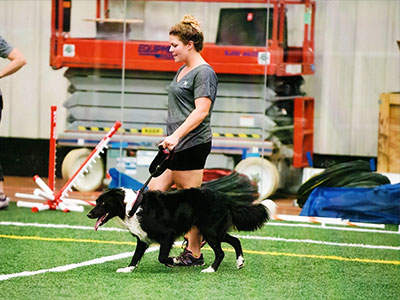 To be a good teacher, she believes continued learning is always important. Tiffany currently trains under Cynthia Hornor & Bridget Thomas, and has trained or taken seminars with a variety of instructors including Sandi Shilling-Daniels, Roseanne & Barb Demascio, Instructors from One Mind Dogs, Deb Sharp, and Shelly Zenorini. In 2017 Tiffany began teaching private lessons from her home in Townsend, Delaware, to give her students the individual attention needed to progress their skills. And in 2020 Tiffany began the process of opening her own business teaching dog agility and dog obedience to share her passion with you!
Meet the Dogs We've Trained
In Townsend, DE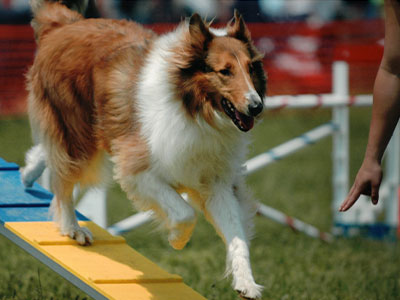 Shiloh, Scottish Collie, Where Dog Agility Training all Began
Tiffany grew up with her mother's Keeshond, but Shiloh, her Collie, was her very first dog. As a young child, she fell in love with the herding breed on a farm where her mother boarded her horse. When it came time to get a dog of her own, Tiffany knew she wanted a collie. Shiloh was truly a classic Lassie, both in looks as well as personality. He went everywhere with her and did anything she asked him to do, with a smile in his heart. There is something truly special about the Collie breed. Shiloh was not only Tiffany's first dog, but the first dog she trained in obedience and agility starting at the age of 8 years old. Shiloh flew through his Novice and Open Titles with very little effort. Due to a shoulder injury Shiloh only competed for a few years, but the agility bug had bitten Tiffany by that time. Shiloh happily lived out his life on the family horse farm, going on hikes, and barking at buzzards. Shiloh taught Tiffany valuable skills when training a dog: patience, kindness, and always having a sense of humor.
Indiana Jones, Collie, Agility Professional
Indy, or Steady Eddy, as he was also called, was Tiffany's next Collie to compete in Agility. Indy was a truly handsome boy, and by far the sweetest dog you could have met. Indy qualified nearly every time in the agility ring. Indy was much more independent than Shiloh. There better have been a treat involved as far as Indy was concerned. Indy was an incredibly sensitive guy, as many collies are, but he was always willing to try.

Indy was the dog who would bark at Tiffany during the middle of a competition if she had made a mistake, letting her and the whole ring know she had messed up his run. Indy taught her the importance of thinking outside the box in terms of training, and trying different methods of training to suit the individual dog.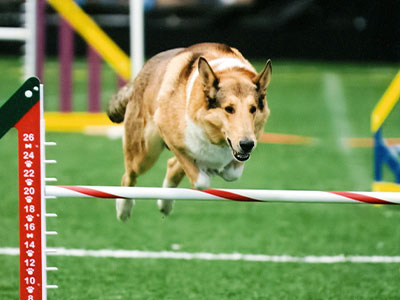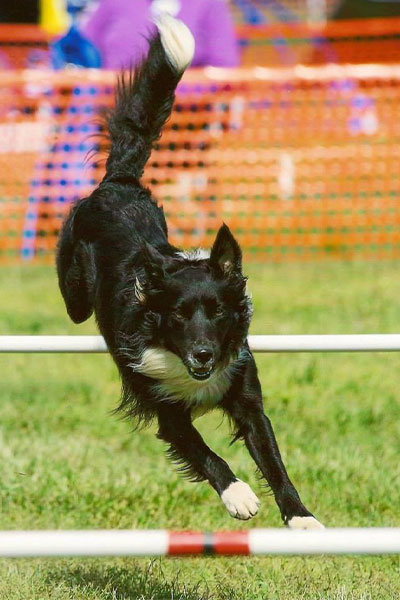 Neo, Tiffany's First Border Collie
By the time Tiffany started agility with Neo she had been competing and training in agility for almost 10 years. Neo taught her true agility handling. She knew that working with a Border Collie would be much different than working with her Collies, but boy did she get an eye-opening experience!

Neo is the dog who never gives up, is not afraid of making mistakes, never runs out of energy, will keep trying things a million different ways, and is just happy to work, work, work. Going from Collies that she could out-run, to Neo, who she swears hides a tank of nitrous somewhere, really taught her proper and effective handling. Tiffany began taking a lot of private lessons and really trying to find the right instructor to progress her skills. One of her instructors said that Neo's motto in life is "I Go Fast", and that applies to him in every way.

Neo and Tiffany learned by mistake just as often as through success. Tiffany describes Neo as her most thrilling dog yet to have trained. His work ethic is like no other. Neo is now retired from agility and has recently become a father, adding two new puppies to Tiffany's pack.
Hi-Tek, our AKC Agility Competitor
Tek is a half-brother to Neo and is currently competing in AKC Agility Competitions, already earning numerous titles, including his Master's Fast Title. Although he is Neo's brother, he could not be more different! Tiffany has worked very hard with Tek as he is nervous around other people and dogs, which can make showing difficult. Tek takes learning and competing very seriously, he always wants to do things right the first time. Tiffany strives to always make things a very fun and positive experience for him. He has been extremely successful so far, despite being a soft dog, and is expected to do many more great things during his career.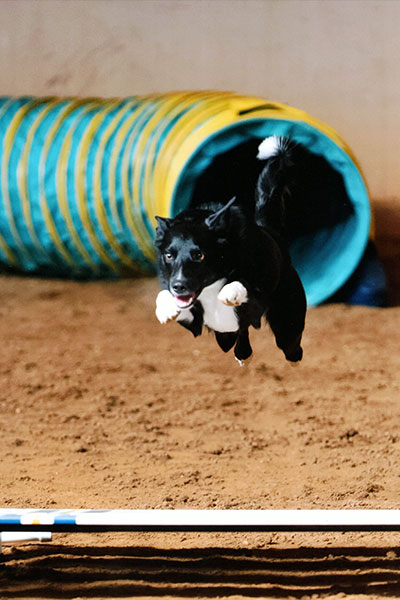 Ash Ketchum & Eevee Evolution - Border Collies
Meet Ash Ketchum & Eevee Evolution, son & daughter of Neo. Ash & Eevee will go on to uphold Neo's legacy in agility careers. Ash is a very charismatic, happy go lucky guy, who loves to work & play in whatever job you give him. He takes after Neo in that he loves everyone he meets and is very curious about the world. Eevee is a little more cautious, but takes after Neo with a very serious focused desire to work and play. Tiffany is very excited to see how these two develop in their careers.